Return to Headlines
Varsity Athletes Recognized at Sports Awards Ceremony
Cato-Meridian athletes were recently recognized for their outstanding athletic achievements during the 2021-22 school year. Athletes and their families were invited to the varsity sports awards ceremony in the auditorium, where Athletic Director Rob Wren and Cato-Meridian coaches distributed individual and team awards.
Team awards were presented by coaches and are listed below:
Field Hockey
MVP: Brianna Broadwell
Most Improved: Madison Morsdorf
Coaches Award: Ashlee Donahue
Girls Soccer
MVP: Amber Clarke
Most Improved: Jocelyn Smith
Coaches Award: Ella Power
Boys Cross Country
MVP: Jordan Greene
Most Improved: Joe Bonanno
Coaches Award: Elijah Haga
Girls Cross Country
MVP: Maggie Brown
Most Improved: Elaina Williams
Coaches Award: Ariana Proper
Volleyball
MVP: Alyssa Cole
Most Improved: Riley Jones
Coaches Award: Emma Jordan
Football
MVP: Bo Turo
Most Improved: Preston Sharp
Coaches Award: Konnor Sharp
Boys Indoor Track
MVP: Merritt Cox
Most Improved: Nathan Dennis
Coaches Award: Jordan Greene
Girls Indoor Track
MVP: Ariana Proper
Most Improved: Miranda Dennis
Coaches Award: Chelsea Dennison
Boys Basketball
MVP: Justin Baldwin
Most Improved: Cody Loveless
Coaches Award: Mason Crandall











Senior Justin Baldwin accepts his award as the Boys Basketball Team MVP.
Girls Basketball
MVP: Julia Wilson
Most Improved: Kaydence Morrissette
Coaches Award: Emma Jordan
Boys Track & Field
MVP: Merritt Cox
Most Improved: Justin Baldwin
Coaches Award: Jordan Greene
Girls Track & Field
MVP: Maggie Brown
Most Improved: Chelsea Dennison
Coaches Award: Jocelyn Kolb
Softball
MVP: Kaydence Morrissette
Most Improved: Riley Jones
Coaches Award: Jocelyn Kolb
Golf
MVP: Tyson Smith
Most Improved: Seth Dello Stritto
Coaches Award: Ayden Mayenzet
Baseball
MVP: Cody Loveless
Most Improved: Brandon Johnson
Coaches Award: Eli Welsh
Wren also recognized all athletes who participated in sports that were hosted by other schools this year: Boys Soccer, Wrestling, Ice Hockey, Boys Lacrosse, and Girls Lacrosse. The Cato-Meridian Cheerleading teams held a separate dinner and awards ceremony to recognize their own athletes.
Eleven teams were named as Scholar-Athlete teams for the 2021-22 school year: Boys Cross Country, Girls Country, Girls Soccer, Fall Cheerleading, Volleyball, Girls Indoor Track, Boys Indoor Track, Girls Basketball, Boys Outdoor Track, Girls Outdoor Track, and Softball. To qualify, 75 percent of a team's roster must average an overall grade point average (GPA) of 90 or higher. Cato-Meridian was just two teams shy of achieving recognition as a School of Excellence by NYS Public High School Athletics Association.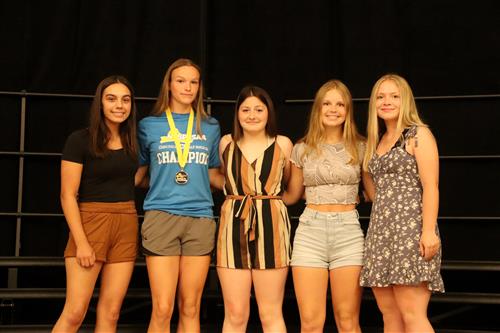 Members of the Varsity Volleyball team pose for a photo. The Volleyball team was recognized as a Scholar-Athlete team.

Individual Scholar-Athletes are listed below. To qualify, an athlete must maintain a GPA of 90 or higher:
Justin Baldwin, Davianna Blanding, Joseph Bonanno, Maggie Brown, Evelyn Burns, Amber Clarke, Alyssa Cole, Louis Conn, Everett Cox, Preston Daggett, Miranda Dennis, Nathan Dennis, Chelsea Dennison, Hayley Deville, Ashlee Donahue, Nadia Dudley, Jordan Greene, Elijah Haga, Audrey Hunter, Bailey Impson, Carter Impson, Brandon Johnson, Katelyn Johnson, Riley Jones, Emma Jordan, Abigail Kennedy, Jocelyn Kolb, Denis Kosiakov, Mackenzie LaForce, Jack Lamson, Kaylee LaPrease, Erin McCarthy, Haley McCarthy, Maggie McGetrick, Owen McGetrick, Kaydence Morrissette, Cassia Muhlnickel, London Pieratt, Ariana Proper, Caitlin Salmonsen, Jocelyn Smith, Mersadie Strong, Mollie Walton, Elaina Williams, and Sophia Zogby.
Seniors who successfully participated in a minimum of nine Varsity sports during their high school careers received a senior cup: Chelsea Dennison, Jordan Greene, Gabriel Haga, Emma Jordan, Cody Loveless, Konnor Sharp, Preston Sharp, Jocelyn Smith, and Tyson Smith.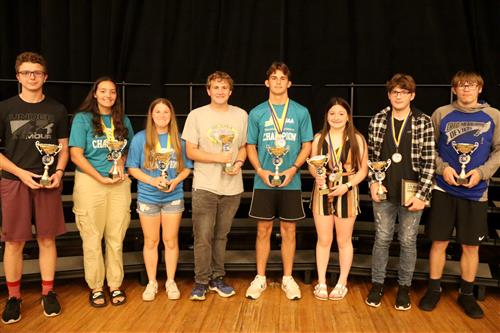 Senior Cup recipients pose with their awards.

The Best Female Athlete Award was presented to Alyssa Cole, while the Best Male Athlete Award was given to Jordan Greene.